tech stuff
|
tech stuff

web stuff
open guides
survival stuff
audio stuff
cable stuff
protocol stuff
css stuff
Tech Stuff - IBM Printer Port
The standard IBM parallel/printer port on a 'common or garden' x86 type PCs. Pretty rare these days (most printers connect using a USB port) so it now probably deserves the accolade - Legacy.
IBM Printer Port Pin-out(DB-25)
The Printer/parallel port uses a standard DB-25 connector. The FEMALE end of this connector (without the bits sticking out) is at the Host/PC. This connector can be, and is, used for all kinds of 'things' so beware and check the pin-out if you are using something exotic.
Apology We incorrectly stated that the host end had the MALE connector - seems we got our MALE and FEMALE mixed up. Put it down to the need for glasses, stupidity or major confusion over the reproductive process as you choose.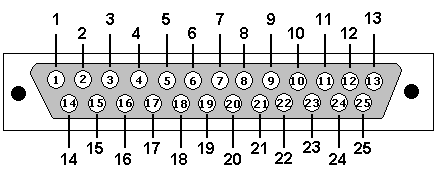 View into Male end
DB25 Pin
Name
Function/Notes
1
Data Strobe
Active LOW
2
Data Bit 1
LSB
3
Data Bit 2
-
4
Data Bit 3
-
5
Data Bit 4
-
6
Data Bit 5
-
7
Data Bit 6
-
8
Data Bit 7
-
9
Data Bit 8
MSB
10
Acknowledge
Active LOW
11
Busy
Active HIGH
12
Paper End
Active HIGH
13
Select
Active High
14
Auto Line Feed
Active LOW
15
Error
Active LOW
16
Initialize
Printer
Active LOW
17
Select Input
Active LOW
18, 19, 20, 21, 22, 23, 24, 25
Return
Ground
---

Problems, comments, suggestions, corrections (including broken links) or something to add? Please take the time from a busy life to 'mail us' (at top of screen), the webmaster (below) or info-support at zytrax. You will have a warm inner glow for the rest of the day.
Tech Stuff

If you are happy it's OK - but your browser is giving a less than optimal experience on our site. You could, at no charge, upgrade to a W3C standards compliant browser such as Firefox
Search


Page
Standards
ISO (International)
IEC (International)
ANSI (US)
DIN (Germany)
ETSI (EU)
BSI (UK)
AFNOR (France)

Telecom
TIA (US)
ECIA (US)
ITU (International)
IEEE (US)
ETSI (EU)
OFCOM (UK)

Internet
Electronics
Site